Today, social media presence is critical to making your brand more prominent and popular. Do you want to highlight your brand with social media management? If this question is on your mind, read on. In this article, we will provide you with effective tactics and strategies on how you can use the impact of social media management to raise the prestige of your business.
Social media platforms such as Facebook, Instagram and Twitter have become a channel not only for communicating with our friends but also for businesses to reach and attract potential customers. If you want to be a successful brand today, you need to harness the power of social media. An article specializing in social media management and full of strategies that will take your brand to the highest level is waiting for you. You will be able to positively contribute to the success of your business by increasing the interaction and number of followers on your social media accounts. Let's look at the journey to shine your brand's light in the magical world of social media.
The Importance of Social Media Management
The fact that social media is becoming more widespread every day and the majority of people spend time on these platforms creates many opportunities for the business world. This is where the role of social media management comes into play. Through social media management, brands can reach and engage with their target audiences and ultimately increase brand prestige by building customer loyalty.
The stronger the brand reputation, the more positive impact it has on both existing and potential customers. This helps the business to increase its sales while at the same time gaining sustainable power. Thanks to social media management implemented with the right strategies and actions, the value of your brand increases and gains respect.
Customer loyalty is vital in this process. Loyal customers will not only recommend your business for themselves, but also for those around them, helping you to acquire new customers. In addition, your loyal customers will be your best advertisers and play a big role in increasing brand awareness. With the right steps to be taken with social media management, it will become simpler to ensure the satisfaction of your customers and gain their loyalty.
As a result, the importance of social media management and its impact on brand reputation is enormous. For this reason, businesses should actively and regularly take part in social media platforms to interact with their target audiences. In this way, both customer loyalty and brand reputation will be strengthened. If you want to complete this process successfully, you should allocate enough time and resources to social media management so that you can achieve valuable results.
Defining the Target Audience: Key to Success
Social media management plays an important role in the process of highlighting your brand and achieving success. The first step in this process is to define your target audience. Identifying your target audience correctly will help you implement your social media strategies more efficiently and expand your customer base.
There are some points to consider when analyzing the target audience. First of all, you should review demographic information; factors such as age, gender, education level play a key role in understanding who your potential customers are. Geographical location is also important; think about which areas you are active in and what expectations the people of those areas have, and adjust your strategies accordingly.
You should also conduct research on the interests, lifestyle and values of your target audience. This way, you can understand them better and strengthen your communication to build a loyal community of followers. The vital importance of communication should not be forgotten; by responding to the expectations, questions and criticisms of your target audience, you can create a brand perception that meets their needs.
You should choose the appropriate content types to reach the target audience on social media platforms. For example, on platforms such as Instagram and TikTok, which are popular with young people, you can attract more attention by focusing on image and video content. This will increase the visibility of your brand and play an important role in achieving success.
In conclusion, defining the target audience is essential to increase the value of your brand through social media management. By understanding your target audience, you can develop strategies that focus on their demands and needs, thus increasing both customer satisfaction and brand value.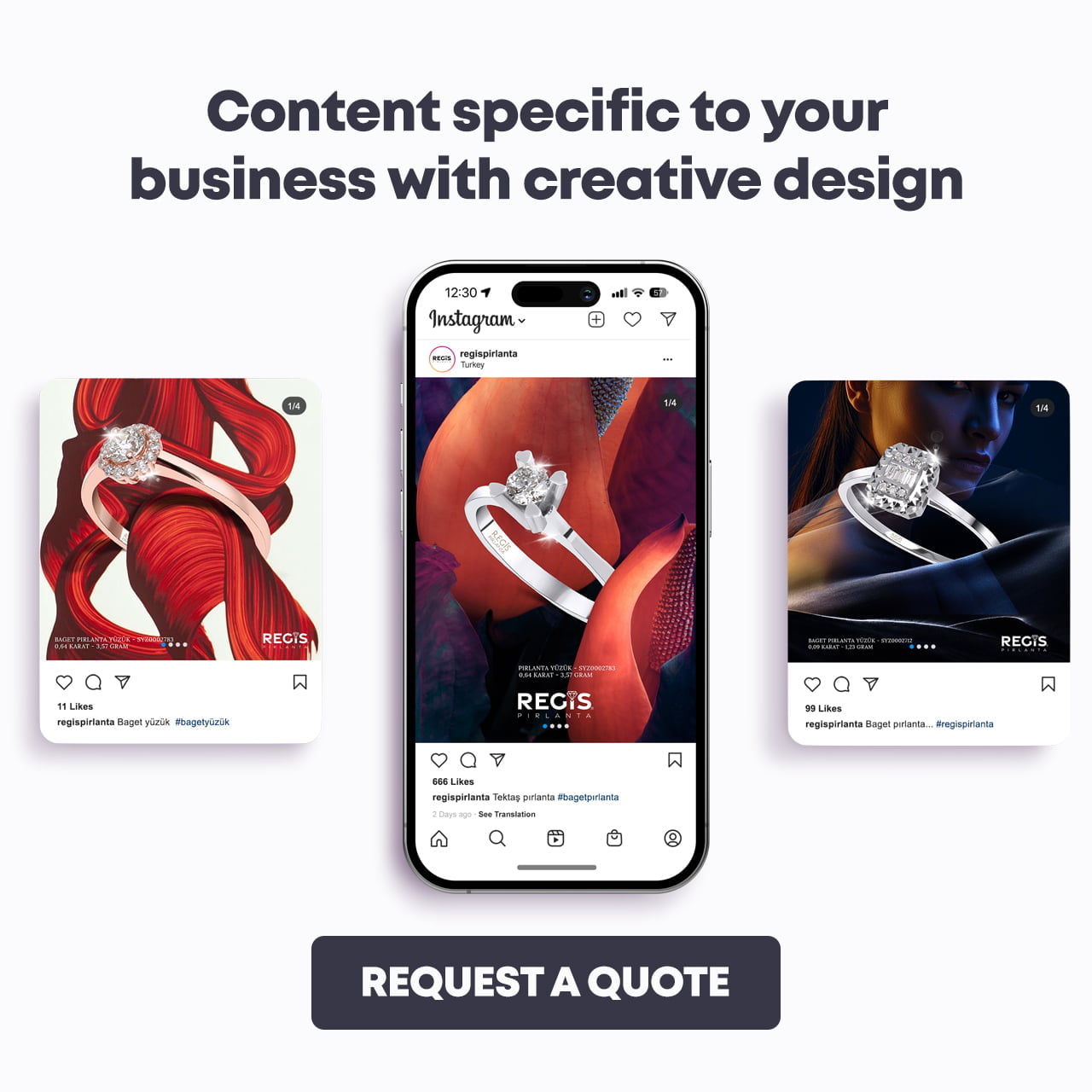 Creating Remarkable Content: Producing High Quality Content
In social media management, excellent content creation plays a big role. It is important to create remarkable posts by examining your brand's target audience and your industry in detail. This will make it possible to share posts that are relevant to your target audience's interests and that they like.
Producing content that stands out and also provides valuable information is vital to success on social media platforms. In this context, with the help of professional graphic designers or photographers, you can create high-quality visuals that reflect the image of your brand. It is also very important to convey the right message in the texts, to respect spelling rules and to use friendly language with users.
In addition, regularly using hashtags (#) can increase your number of followers. With the right hashtags, you can reach a wider audience and gain access to potential customers.
Periodic campaigns and events are also important to create attention-grabbing posts. In this way, you can attract users, increase your brand awareness and build a loyal customer base.
After all, the key to making your brand shine on social media is to create quality content and posts that grab attention. Detailed analysis of the target audience, preparing visually and textually striking content, and using the right hashtags to reach large audiences are essential in this process. In this way, your brand's social media success will increase and contribute to the development of your business.
Increase Your Followers with the Right Timing and Continuous Engagement
Social media management is crucial to increase your brand's follower base and engagement level. With good timing, constant engagement and strategic planning, you can build a solid community on your brand's social media accounts and create close relationships with your customers.
First of all, it is important to post at the right time. By sharing your posts at the most active times of the day and week, you can attract the attention of your followers and ensure that your content reaches a wider audience. This supports your business to get more likes, comments and shares.
Continuous engagement is key to developing follower loyalty. Communicating regularly with your followers, responding to their questions, listening to their suggestions and taking steps in line with their feedback strengthens their loyalty to your brand. In addition, contests and campaigns organized on social media are excellent opportunities to attract users' attention.
Strategic planning is the backbone of social media management. By preparing your content calendar in advance, you can decide how often and what type of content to share. This way, you can achieve steady growth in your brand's social media accounts.
As a result, with good timing and constant interaction, you can increase your brand's success and strengthen your follower loyalty through social media management. These strategies are vital for businesses, especially in an increasingly digitalized world.
The Final Phase: How to Make Your Brand Shine: Effective Advertising Tactics
It is crucial to identify effective advertising strategies to expand the recognition of your brand and reach more customers. In this context, creating a comprehensive plan based on data from social media management is vital to your brand success.
First of all, you should analyze your target audience correctly and create ads that appeal to their points of interest. By segmenting users on social media platforms according to their demographic information such as age, gender and interests, you can design more impressive and personalized ads. In this way, you can establish closer communication with your potential customers and increase their awareness of your brand.
You should also evaluate the benefits offered by various social media channels to make the most effective use of your advertising budget. For example, while emphasizing visual content on Instagram, short and clear texts and attention-grabbing expressions can be preferred on Twitter. You can also take advantage of the special advertising options offered by each platform (such as "Sponsored Content" or "Quick Ad" options on Facebook) to increase your brand's engagement level.
You should definitely use analytical tools to monitor the performance of your ads. This way, you can see which ads are generating the most conversions and adjust your strategy accordingly. You can also increase the value of your brand by maintaining an attitude open to continuous improvement thanks to the feedback and comments provided by social media management.
Finally, identifying appropriate advertising strategies and integrating them with social media management is the final step to make your brand shine. Continuously analyzing your performance while producing content tailored to your target audience and using the advantages of different channels plays a big role in achieving success.
Today, the importance of social media management and its impact on brand reputation is undeniable. By identifying the right target audience and producing quality content, you can increase your brand's online visibility. You can also build a loyal customer base by posting at the right time and consistently engaging with your followers. It is possible to reach your target audience by using appropriate advertising strategies to further develop your brand.
You can grow your brand's value and reputation with the key elements you need to consider to succeed on social media. Remember that patience and persistence are very important in these processes; the more hard work and diligence you put in, the more successful results you will achieve.
Social media management If you would like more information or professional assistance, do not hesitate to contact us. Our team of experts is here to offer you the best service. Contact us today to discover the potential of your brand and take an important step towards success. Also, our social media management offers and prices you can click on the link for more information.